WDBE2023 AWARDS, 20th september
WDBE AWARDS FOR CELEBRATING OF THE BEST DIGITAL ACTS IN THE BUILT ENVIRONMENT – ALL THE CATEGORY WINNERS HAVE BEEN ANNOUNCED!
For the sixth time in a row, professionals in digitalization of the built environment gathered together on September 19-20 at the World of Digital built Environment WDBE Summit. As part of the international conference, the Awards ceremony was also organized for the second time, during which the best digital actions in the built environment were awarded in six categories. Proposals for the categories arrived from all over the world.
The jury consisting of the organizers of the WDBE2023 Summit selected the following proposals as winners of the categories:
CATEGORY: Most innovative digital project delivery
Winner: Utilising data capture to improve collaboration in renovation construction, Skanska Oy, Finland
CATEGORY: Best research for digital built environment
Winner: ACTOR – Automatic coordination of construction actors -project, Aalto University, Finland
CATEGORY: Most advanced digital twin
Winner: Go green with digital twins!, Framence GmbH, Germany
CATEGORY: Most collaborative use of data
Winner: Metropolia Collaborative Smart Campus, Metropolia University of Applied Sciences, Finland
CATEGORY: Most impactful digital act for sustainability
Reducing the carbon impact of infrastructure by materials optimization, ORIS Materials Intelligence, France
CATEGORY: Most promising digital solution
Clearly.BIM – BIM permit checking service, Future Insight Group, The Netherlands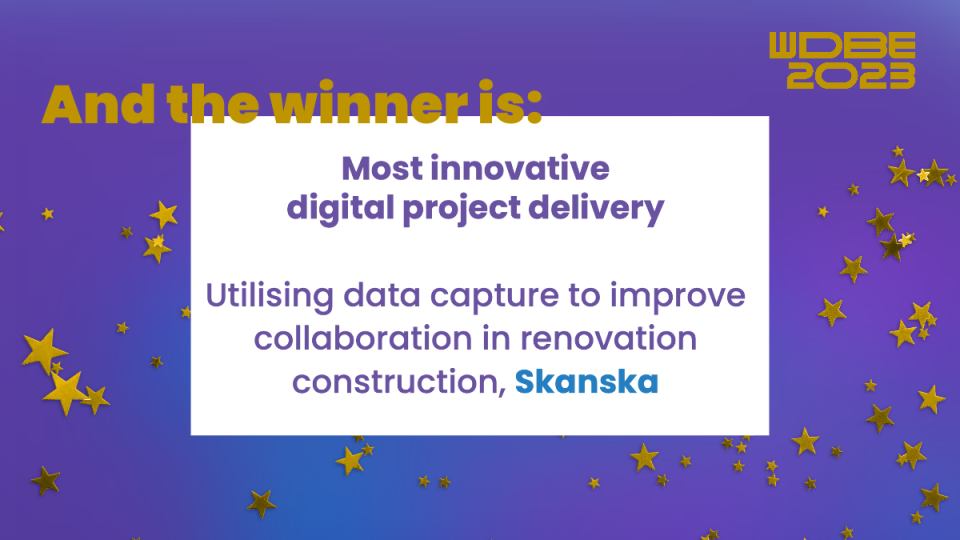 WDBE2023 Awards keynote Matti Rönkkö
Matti has spent last 15 years of his career with fast growing global businesses and launched and scaled B2C and B2B businesses successfully across multiple markets and continents. He has extensive global experience from the startup & scaleup ecosystem in different roles in  innovative in fast growing organisations such as Rocket Internet and Nosto Solutions. Matti is passionate about creating positive impact and fascinated by innovative solutions that solve real global problems. Currently Matti is heading Kiilto Ventures – the venture arm of over 100 year old Finnish family business Kiilto. Kiilto Ventures invests in early-stage startups that aim to future-proof the built environment and regenerate nature.
Matti's keynote is titled: "WHILE THE PLANET IS WARMING UP, WHY ARE WE SOLVING THE PROBLEMS OF THE LAST MILE?"
WHO IS WDBE FOR?
Each year WDBE Summit gatheres on average 400 participants from 30 countries together. We are CDOs, CTOs, CIOs in real estate and construction, government and city officials, architects, engineers, other experts as well as researchers working with BIM, VDC, AR/VR, Big Data, analytics, IOT, virtual project delivery and more.
CATEGORY NOMINEES FOR WDBE2023 AWARDS