The winners of WDBE 2022 Awards have been chosen!
World of Digital Built Environment 2022 (WDBE) took place 28-29 September in Helsinki, Finland and Tallinn, Estonia – and this year featured a new Awards gala! We wanted to shine the light to the very best actions globally and give back to those, who strive to accomplish our shared vision of sustainably digitalized built environment and will continue to do so also in the future.
WDBE provides a global platform for all professionals in the built environment to present their own solutions, projects, ideas and achievements. 
WDBE 2022 Awards nominees & WINNERS
A jury consisting of WDBE organizers selected three finalists for each category from the proposals received (The best learning experience didn't receive enough proposals so it had to be removed). The winners were announced at the WDBE Awards gala on September 29 at Tallinn Town Hall. You can check out the best of the competition categories and the winners below. Let's celebrate the forerunners of digital built environment together!
Category: The Best research for digital built environment
Category: The Best use of open standards
Category: The Most advanced digital twin
Helping asset managers become more efficient and resilient, Framence
Value proposition and realization in Build Environment Digital Twins, Sitowise
Codeax SAFE – the world's easiest rescue plan and property management platform, Codeax, Ains   The Winner!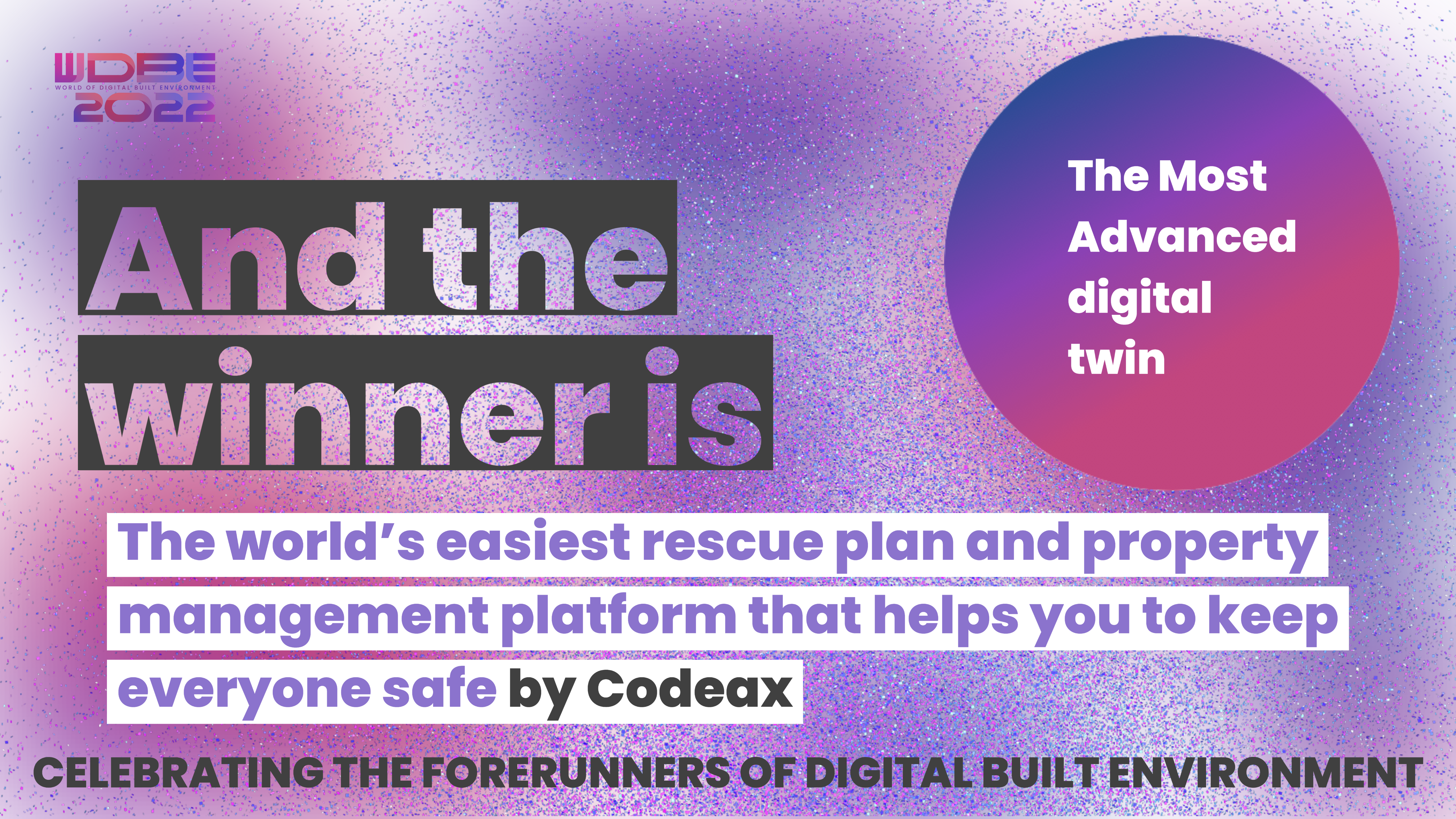 Category: The Most collaborative use of data
AUTO.pilots: The use of AI in scalable industrialized construction processes, TAKT.ing GmbH
Track your construction site, Kaltiot  The Winner!
Turning planning and management of projects upside down – the way your grandfather wanted it to be!, deepMAP
Category: The Most impactful digital act for sustainability
A Platform of Opportunities: Delivery of industrialized and regenerative buildings, CREE Buildings
Retrofitter, Universiteit Antwerpen   The Winner!
The digital material platform to optimize road and infrastructure projects., Oris
Category: The Most promising digital solution
Using Digital Techniques to Increase the Sustainability of Concrete Production in China, Caidio
CHAOS – Revolutionizing the way we measure cities, CHAOS
Digital marking of electrical installations, Simplewire ,  The Winner!