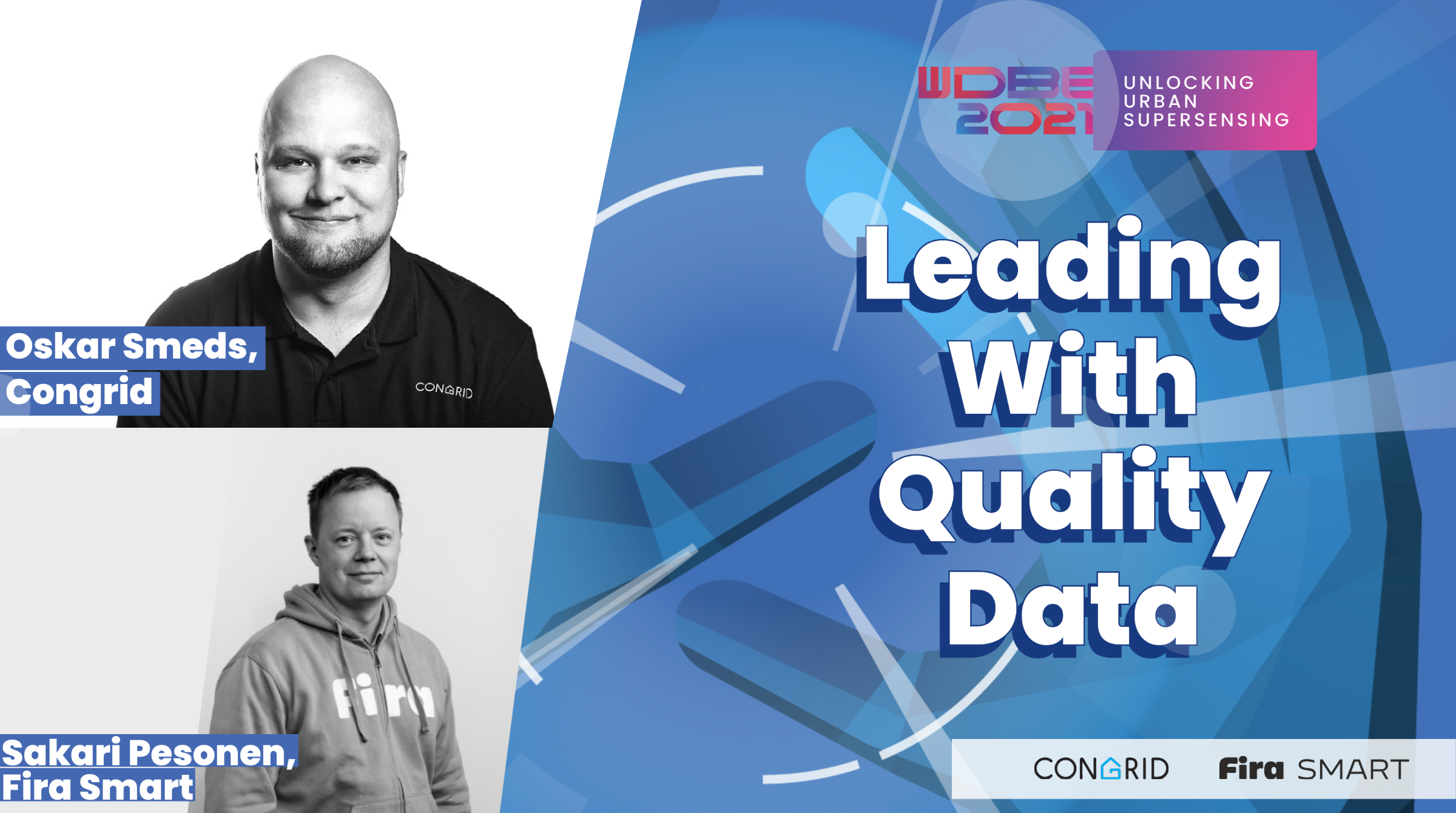 WDBE UPDATES // What did we learn at the Community Session?
Both Congrid & Fira Smart are striving after better building practices
Leading with data is a big buzzword of our time, but the origin of the data on the situational dashboards plays such an important role in ensuring high quality and reliable throughput in construction projects. The digital tools used at the worksite have high importance, as they are the source of your data. But you must go further than to only provide digital tools – you must ensure their use produces quality data. If the site management doesn't feel the tool helps them do their job, it'll inevitably fail.
The data producer and the construction site must be given sound practices for how to make use of the digital tools. It's only by combining these two – the tools and the practices – into a balanced entity, that you get the site to produce quality data and from there, great situational awareness.
Why is careful photo documentation not a guarantee of quality alone?
Let's take quality assurance as an example. Photo documentation is a great way to record the steps that are covered behind the surfaces. Before concrete pouring or drywall assembling, photos are taken for possible future needs. Previously, a search for photos lasted for hours or even days if they were needed afterwards. Now the right images, if taken and tagged to the location, can be found in a few minutes.
A single photo can be priceless for an operator when proving, for example, who is responsible for water damage. However, this evidence doesn't add value to the building itself, the project, or its users, but is rather a part of the responsible operator's self-defense and preparedness plan. When property developers, main contractors and subcontractors argue with each other, everyone loses. Therefore, careful photo documentation is not a guarantee of quality alone, and its point shouldn't be securing your back. It should be better quality building.
An integral part of quality management is the checklist, which contains items that are important for the work package. When possible, these items should be specified, such as that the supports are installed at intervals of <400 mm, rather than stating generally that the supporting has been carried out as planned, or other generalities. The checklist should be based on the plans of that specific project so that it indicates where the quality of that project should be inspected. A duplicate list, where the checked items aren't related to the project at all is, unfortunately, worthless. Marking the item with just 'OK' i​sn't always enough either. When a well-planned inspection is done on time in the field and it is complemented by good photo documentation, we are already close to optimal performance.
>> Want to learn more? Watch now for free!
Click the image to watch the full recording of our recent Community Session.
Collaboration is key
Leading with data, and including the incorporated data production, is a complex entity and its importance isn't always understood. Succeeding requires both digital tools, which is relatively easy, and management practices that merge into them seamlessly, which, in turn, is a lot harder. With the right know-how, these two make for a perfect combo at the construction site.
Not surprisingly, collaboration is the key here, too. When any deficiencies found in the inspection of the first worksite are corrected in quality inspection rounds and the building contractor is instructed on what needs to be changed, the probability of further repair needs decreases. No one wants to do the same thing multiple times, incorrectly at first and then having to correct it. It's better to take control of the process from the beginning than to solve problems during the entire construction time or repair expensive mistakes years later when it would have been easy to avoid them during the production phase.
Why do we need real-time situational awareness?
Data-driven dashboards, and related remarks and alarms, make potential problems visible as early as possible, so that they get noticed. This can even enable predicting possible problems a project will face so that they can be addressed before the situation escalates. Without situational awareness, the project would progress without reaction, and it may be as late as in the final financial statement when the team notices that the project didn't bring any revenue. For these reasons, data-driven knowledge that is well put together, always up-to-date, and always available for everyone who needs it, is extremely valuable for any company in the construction industry.

This article was written by:
Congrid offers a single platform to handle all quality and safety management on any construction project – improving quality and safety, maximising site productivity and reducing costs. From improved safety levels to reduced quality costs, Congrid introduces an entirely new way for delivering zero-defect properties and offers the industry a better understanding of what has been built and how it has been built
Fira Smart, started by a group of enthusiasts within a construction company, aims to modernize how we build through data-drive and re-thinking. We want to make construction digital, modular, and standardized, believing it will enable intelligent decision-making, seamless processes, better quality, and significantly reduced lead time.
Pallavi is a senior scientist and solutions architect at NVIDIA. She collaborates with research
institutes and customers to solve exciting challenges in the digital twin research space using
NVIDIA Omniverse.
You can learn more about Pallavi's thoughts on WDBE Talks, the podcast for the World of
Digital Built Environment. To hear her keynote and meet her in person, come to WBDE in
September 2023.