Urban3 is an oasis for urban developers
With Urban3, the goal is to build a comprehensive and bustling platform for showcasing the future of the Finnish built environment. We look to honor the innovation ecosystems breaking silos between traditional industries, the solutions improving our built environment, and the innovators creating our shared and sustainable urban future. We welcome everyone from various backgrounds to take part in our diverse activities and join in on creating our shared story. If you'd like to work with us, join the community or showcase you solutions, please click the button to contact us.
Streamed from Urban3 – KIRAHub & AINS Group startup showcase
AINS Group and KIRAHub joined forces to discuss how established organizations and corporate venturing can accelerate innovations and boost startups in the AEC industry. And why it is in fact vital – to the people, businesses and the industry. 
Here you can see the list of spaces at Urban3. You can use them separately, combine them or takeover the entire place for your activities. Click the button below to contact us – let's create new and out-of-the-box concepts for engaging and accessible productions together!
Event space
Capacity: 65 people 
Big screen
Smart IP speaker system spatial audio by Genelec
2 wireless mics
2 headset mics
Showroom
Capacity: 65 people
5 areas with 55″ screens
Smart IP speaker system spatial audio by Genelec
VR set
Workshop
Capacity: 20 people
50″ screen
2 whiteboards
Meeting room
Capacity: 8 people
50″ screen
whiteboard
Events, studio & stream
Urban3 serves as a platform for all kinds of events from visually amazing product launches and industry summits to smaller gatherings. You can organize events for up to 65 people in our event space, and for bigger occasions we can take over Maria 01's Lars Sonck Venue located just below us, hosting up to 300 people altogether.
Co-working, meetings & mingle
Urban3 serves as a homebase for multiple associations and organizations developing the built environment. For us the transformation of work means finding passion and meaning in everything we do. Urban3 is an oasis of passionate working with dedicated people.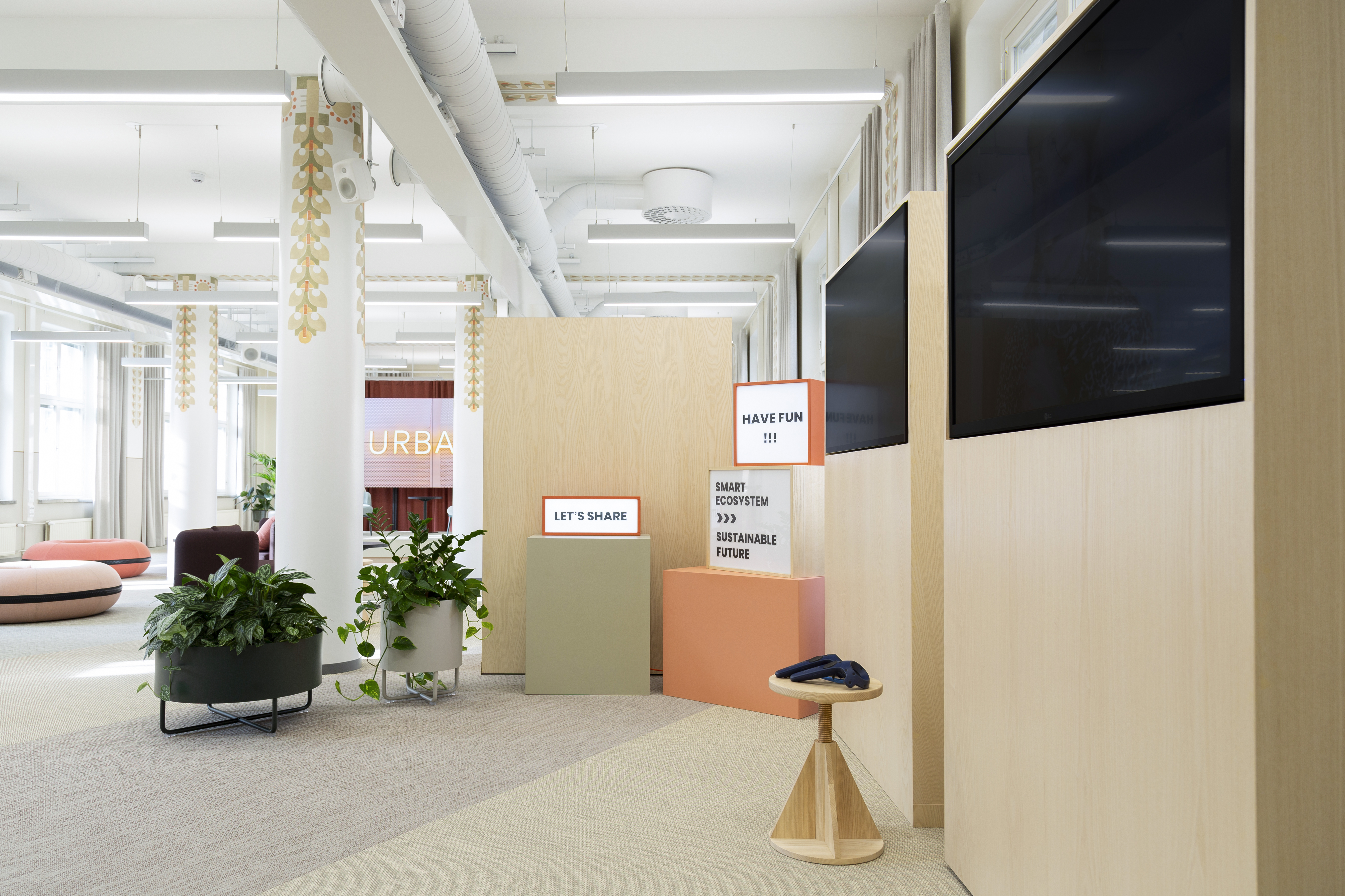 Workshops & co-creation
What would an ecosystem platform be without a proper space for brainstorming, workshops and co-creation?
At Urban3, you can easily organize a workshop of your own. You are also warmly welcome to connect and co-create with our wide coverage of ecosystem players and their extensive global networks.
Digital showroom & testbed
Our goal is to make Urban3 a platform for transparent and comprehensive showcasing and testing of digital innovations improving our urban environment.
Bring your solution to our showroom & testbed or book a tour to experience the latest Finnish innovations!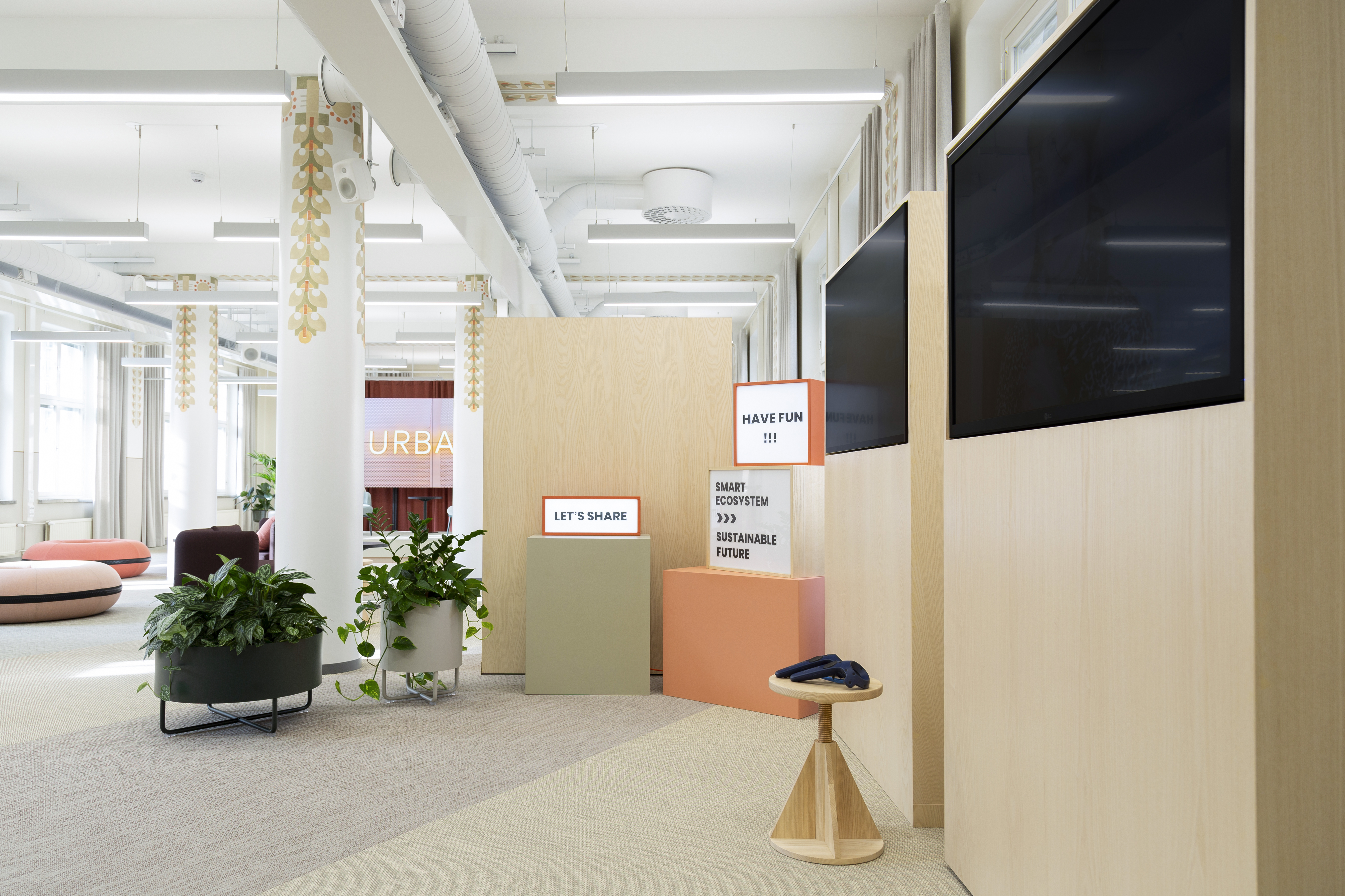 Media lab, Visual lab & Sound lab – all inside!
We offer full service media production from videos, photography and graphic design to webinar production, podcasts, interviews, articles and more.
Equipped with the latest high-fidelity technology, our team of award winning professionals will help you to produce, present and stream top-notch content from Urban3.
Solutions in the showroom
Meet the residents of Urban3
Urban3 community and space is hosted by KIRAHub and serves as a homebase for 12 organisations.