WDBE talks: Episode 7
For this episode of WDBE Talks, we sat down with Microsoft's Jeff Schumacher to discuss sensor technology in the modern built environment. Our conversation covers the role the tools play in helping us evolve our spaces, understand those living in them, and the renewed importance of privacy.
Listen to our podcast!
(also on Apple Podcast, Spotify, and other platforms)
"Technology plays a huge role in helping us understand how we evolve our space and then determine what is working and what isn't. Ultimately, it affects the overall performance of the teams. We see more engagement, more activity, and more productivity in spaces that are inspirational and motivational than we do in spaces that aren't." Jeff observed in our interview. 
Our discussion covered
Modern sensoring's ability to supply real-time understanding and drive decision making.
The overlap between physical sensor tech and digital security.
Details about the 'One Microsoft Court' and 'One Microsoft Place' development projects.
The connection between physical, shared spaces and professional productivity. 
Learnings drawn out from the threat of Covid 19. 
Guest of this episode: 
Jeff Schumacher is the Global Workplace Services Lead at Microsoft, a multinational technology corporation that produces software, electronics, computers, and other digital services. 
You can meet Jeff at our WDBE 2021 event on September 29, 2021, where he will be attending as a keynote speaker. You can take a look at our program and register for the event at WDBE.org.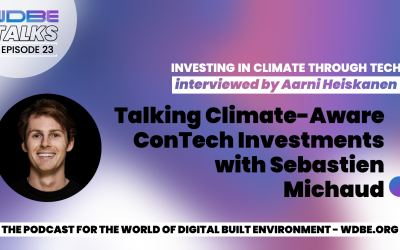 In this episode of WDBE Talks, Aarni Heiskanen's guest is Sebastien Michaud, VC at
Foundamental. They discuss investing in climate through technology, the theme of this
year's WDBE.